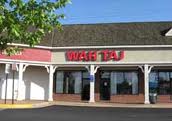 Wah Taj
2545 Centreville Rd Herndon, VA 20171
703 793-3044
Google Map
Credit Cards: Yes
Smoking: No
Alcohol: BEER & WINE
Delivery: No

The menu at Wah Taj is different from the menus at other Indian restaurants in Herndon. There are many, many choices, and no descriptions of the items. With categories like ""Hamare Dakshin Se'"" and menu items like "" Pav Bhaji"" and ""Sada Dosa"", the menu is very confusing even to someone who might frequent Indian restaurants. There seem to be appetizers in both the front and the back of the multi-page menu because the ""a la carte"" menu is basically a second appetizer menu. The servers are polite and try their best, but really are not that helpful in describing the menu items. Go ahead and try something even if you are unsure what it is, and you will probably not be disappointed if you like Indian food. We had the Aloo Tikka Chat, Ginger Chicken, Chili Fried Lamb, and everything was exceptionally delicious, spiced with a symphony of flavors. We left wanting to return soon to try the soups, noodle dishes, dosas, and more of the mysterious side dishes.
User Reviews of this Restaurant