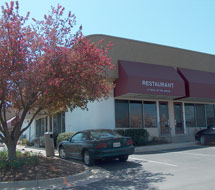 Taste of the World
Official Web Site
283 Sunset Park Drive
(Sunset Business Park)
703-471-2017
Remarks: Filipino, Thai, Indian, Mexican (Closed on Sundays)
Google Map
Credit Cards: Yes
Smoking: No
Alcohol: Yes
Delivery: Yes

Shirley Roth, the owner of Taste of the World is a native Filipino who decided that opening a Filipino restaurant in Northern Virginia would be too risky, so she opened a restaurant that serves cuisine from all around the world. There is actually only one Filipino entree on the menu, called Pancit, which is a stir-fry with rice noodles and curry. While the menu features many exotic sounding items such as Korean bulkogi, Indian chole-bhatura, and Mexican chili relleno, the menu items are all relatively middle-of-the-road as far as the American palette goes, and this is a delibrate choice the owner has made in order to create mass appeal. The menu is so diverse it makes you want to come back and try something from another part of the world on your next visit. The dessert selection is interesting and diverse as well, featuring baklava, blintzes, Turon (a Filipino banana & pastry dessert), empanadas and more.
The decor is colorful, but not gaudy; modern, yet warm. The food is good, but the servings are small for the price. For example, one of the specials was an Afghan vegetarian dish for $12.95 and consisted of about 2 cups of vegetables and some pita bread. There is no bar, but there are a variety of international beers and wines to choose from.
Reviewed 04/05
User Reviews

I found this restaurant on your website and thought to myself: "Self, if they have pancit, I'm there!" I drove all the way across town to visit this awesome
restaurant and would gladly travel back if ever I am in the area again (here for
business). I was truly amazed at the vastness of their menu and how they cook
everything to perfection. I wish I could go back every week and try something new! I had the pancit with chicken and pork, aushak (Afghan leek dumpling), and took lumpia home for a midnight snack! The service was excellent and I've never eaten that much pancit before, mainly because I always have to share it with someone else in my family! I will be going back tomorrow night, and I'm sure it will be just as good. But it will be a tough decision as to what I get!
Rachel, Philadelphia, PA
Age: 18-28
Likes: Mile High Steak and Seafood (Chadd's Ford, PA), Cheesecake Factory, Houlihan's
Dislikes: Applebee's, Fuddruckers, Burger King
Reviewed: 8/23/10
The food here is delicious. It's a good place for a group of people who are craving international food. There are dishes from different parts of the world (not just Asia) so it's very likely to accomadate everyone's taste bud. I usually get the chicken basil which comes with enough to feed 2 people. The staff there is also friendly.
Dane, Herndon
Age: 18-28
Likes: PF Changs; Ruth's Chris
Dislikes: Burger King; Applebees
Reviewed: 03/08
The service was excellent and the food was well seasoned and flavorful. Atmosphere was also very pleasant and inviting. A great choice with a lot to offer menu wise.
charles james, Herndon
Likes: Chipoltle
Dislikes: quizno's
Reviewed: 5/21/08

The food here is very tasty, I have been going here for about 2 months now. Had the pancit #4 and was delicous, Pad Tai is authentic and great.
I have not had 1 bad thing from this place. Great find.
Will Lipford, Reston
Likes: Ice House Oyster bar, Saigon Pho
Dislikes: chilis,fridays,applebees
Reviewed: 2/21/2008

A great restaurant for a group as there is food to appeal to all. The green chicken curry is a favorite! I'm just tired of sharing it with everyone else at the table... Good service and very reasonable prices.
Linda, Oak Hill
Likes: Taste of the World
Dislikes: most fast food
Reviewed: 10/06
We visit this restaurant for the best beef with peanut sauce (I like it #2 hot)we have found in the area. My grandson and I order this each time we go. My husband likes to experiment and orders something different depending on what his mood dictates - Mexican, Korean, or Thai. This is a great family place and my husband and I go when it is just the two of us. Service is great and even if it has been over a month, the wait staff remembers you and your order from previous visits.
Cathy Santore, Herndon
Likes: Zephs
Dislikes: Burger King
Reviewed: 06/07
I go here 4-6 times per month. The food is excellent. My favorites are the Singapore Noodles, Pad Thai, and the Chicken in Green Curry. My favorite appetizers are the Spring Rolls and the Chinese Dumplings. Very friendly staff. This is an excellent find!
Kevin, Manassas
Likes: Sorrento Grill
Dislikes: Royal Buffet
Reviewed: 9/21/07