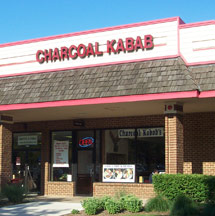 Charcoal Kabab
472 Elden Street
(Kmart Shopping Center)
703-435-2400
Google Map
Credit Cards: Yes
Smoking: No
Alcohol: No
Delivery: Yes, Take-out Taxi: 703-578-3663
There are several restaurants in Herndon that specialize in kabobs, and there are dozens in Northern Virginia. This one is our favorite because the meat is spiced and grilled just right. The portions are generous, and you have a choice of interesting side dishes to go with your kabob. Everything on the menu is great. The beef kabob is the local favorite. (Ask for it medium rare.) You can opt for the "low carb" kabob which comes with more vegetables and no rice or bread.
If you like really spicy food and have 15 minutes to wait for your order, try the chicken karahe. It's served in a bowl for two mixed with lots of spices and vegetables producing very complex succulent flavors. You don't eat it with a fork, you are supposed to tear off a piece of the flat bread ("nan") to pick up the food from the bowl.
The service is not particularly warm, but it is consistantly efficient. The veggie kabab is made with potatoes, which surprises some people. In a place where the meat is so superior, it is a shame to go vegetarian. The kabobs are served on styrofoam plates with plastic forks, but that's how you get the best meal in town for the price.
Reviewed 04/05, updated 11/06
User Reviews

Pretty good food, and the vegetable sides are fantastic. But the
"vegetarian kabob" is awful--just tastes like roasted bread dough on a stick.
David S., Burke
Likes : Sunflower (Vienna)
Dislikes: Morton's Steakhouse (Reston)
Reviewed: 03/01/2011
Very average fast food facility. The portions are large, but the quality of meat (I ordered beef and chicken combo kabob) could have been better. I give it 2 stars out of 5. Submit: Submit
Inna city, Lanham
Likes: Awe Shack Kabob; Crofton, Princess Plaza, MD
Dislikes: Any chinese All You Can Eat buffet
Reviewed: Jan 30, 2011
I was just there and ordered 2 chicken kabobs with chick peas, 1 order of
palak paneer, and 1 order of dahl. The gentleman who took my order repeated it wrong and I corrected yet I still got a completely wrong order. I received 2 gyros, 3 sides of chickpeas, and 1 side of palaak paneer. It's not that he mistook what I said or heard me incorrectly he just didn't listen, I repeated my order twice and then corrected him when he said it back to me wrong. I was really looking forward to the chicken kabob and the dahl (neither did I get) because I've had them here before. I'll think twice about going here again, I don't want to pay for food I don't want.
Jenn, Herndon
Age: 29+
Likes : Patowmack Farm Restaurant
Dislikes: Chain restaurants
Reviewed: 07/23/10
I went back to Charcoal Kabab on Elden st next to K-Mart. The food is still good, but the price keep on going up. A regular meal with no drink cost $9 comparing to $7 less than a year back. All the restaurants are cutting down on prices except for Charcoal Kabab. I would look for other kabob restaurant
Herndon Eater, Herndon, VA
Reviewed: 07/08/09
I have been visiting this place for the last 5 years. Excellent Food! My favorite is Boneless Chicken Kabab with Palak and Chick Peas side dishes. People are very freindly and excellent customer service! This is my favorite food on lot of Friday eveninings.
Jay C, Herndon
Reviewed: June 2008

Charcoal Kabob is pretty average when compared to other restaurants in Northern VA, however there is very little kabob competition in the Reston/Herndon area so if you really have to have some and don't want to drive very far, head to Charcoal Kabob. I find the meats to be decently cooked but not particularly flavorful. The rice is pretty bland and the side dishes tend to be mushy. The bread is a bit too thick and fluffy, in my opinion. I prefer naan to be flatter and chewier.
Jeff, Reston
Age: 18-28
Likes: Kabob Palace
Dislikes: Big Bowl, Appleby's
Reviewed: 9/2006

My wife and I visit Charcoal Kabob almost every Friday night. It is the kind of place where you don't have to worry about waiting for the food or tipping a waitress or anything like that. It is kind of a fast food Kabob place without the fatty food you find at the usual fast food restaurants. Our favorite dish is Chicken Curry. The people who work there are very friendly and the prices are reasonable.
Kader Brahimi, Herndon, VA
Reviewed: 11/06
For the past ten years since I first moved to Herndon, Charcoal Kabob has consistently prepared wonderful food. I love their boneless chicken kabob. Along with the seasoned, grilled chicken, fresh bread comes with the meal, as well as a side salad with yogurt sauce, and rice with your choice of a side ladeled on top of the rice. I always enjoy the mixed vegetables side and my husband always get the chickpeas side. We usually carry out, but it is a clean restaurant, and the service is fast. I have tried about 4 other restaurants in the area that serve kabobs, and in my opinion, Charcola Kabob is the best. I highly recommnend a meal here.
Susan, Herndon
Likes: M&S Grill
Dislikes: Red Robin- too noisy
Reviewed: 06/07
Charcoal Kabab has been one of my favorite spots for a change of pace from the usual. I have been eating at this restuarant for the past 8 years. It was recommended to me through a friend. I don't eat there frequently; only when I have a taste for something different. They have always served some of the more flavorful dishes that I've eaten. I would sometimes take my friends or family who have never eaten Kababs. They were always pleased with their meal. I haven't been to all of the Kabab style restaurants in the area, but of the one's I have been too, Charcoal Kabab is the best.
Richard Hackett, Chantilly
Dislikes: Anything Fast Food
Reviewed: Early November 2007