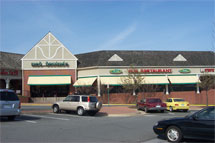 Ned Devine's
Official Web Site
2465 Centreville Road
(Clocktower Center)
703-793-7376
Google Map
Credit Cards: Yes
Smoking: Outside only
Alcohol: Yes
Delivery: No

Ned Devine's is known primarily for its lively and very popular bar scene, with entertainment seven nights a week, such as DJ's, live bands, Poker Night, karaoke, and Quiz Night and sports-watching events. However, the atmosphere during "dining hours" (before the evening events start) is fairly quiet, suitable for a romantic date or family meal. One side of the bar is Aussie themed, and the other Irish, and there is a large, inviting, patio dining area as well. The menu has a huge selecton of salads, sandwiches and many other American entrees, but also a unique selection of very hearty Irish and Aussie entrees such as Guinness Beef Stew, Aussie Steak & Mushroom Pie, Corned Beef & Cabbage, Irish Lamb Stew and more. Meals are around $8-$14. The service is very friendly.
User Reviews of this Restaurant