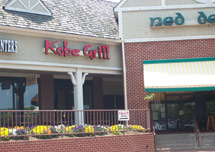 Kobe Grill Recently Closed
2465 J3 Centreville Road
(Clocktower Center)
703-561-0123
Google Map
Credit Cards: Yes
Smoking: No
Alcohol: Yes
Delivery: No

Kobe Grill is a cafeteria style Asian restaurant with your typical stir-fry and Asian soup options. Select from beef, chicken or shrimp, and select the "brown sauce" "curry sauce" or "spicy garlic sauce" and that's just about everything on the menu. The cuisine is Japanese, Korean and Chinese, but nothing particularly unusual to the American palette. Prices range from $7-$9.
User Reviews

Great food! I have eaten here often and will be again soon. The twin
brothers that run the place are quite friendly and if you take the time to chat, you
will learn some interesting background from them. And if you are bold to order a special, ask for the Big Jon Special. I recommend it.
Jon, The Plains
Likes : El Agave, Yung Chow, Rainbow Kabob
Dislikes: McDonalds, Red Lobster
Reviewed: March 2011
Our twenty-something son, Barry, has been a frequent diner at the
Kobe Grill for a few years now - whenever he is home from college
or on summer break. My husband and I decided to "have a look" and see for ourselves what was so special about Kobe Grill. The owners greeted us as if we were family and the food was excellent - all fresh ingredients and perfect seasoning/sauces! The spring roll was top notch! The menu offers a lot of variety for different tastes and they will prepare the meal to the level of spiciness which one requests. We're glad we tried it and will return frequently - with or without Bman.
Cindy, Herndon
Likes: Jaleo
Dislikes: Red Hot and Blue
Reviewed: May, 2009
I love this place. I've been coming here for years and the twin brothers that run the place is awesome. Now granted there is no table service - you order everything at the counter. One twin run the register and the other runs the kitchen (that's why it seems like ONE person is running it). Ok yea they speak in a forgein accent, hello you are eating at an ethnic restuarant. The guys that own this are the younger set, so they like to interact with their customers and joke. I came in one time and ordered three meals (for co-workers) and they were making fun of me saying how hungry I was today and I was hording food (but it was all in a funny joking way). The place is small but the food is so worth it. If you like garlicy, maybe spicy food (they will custom the heat and taste to your preference) and quick this is a yummy place!!
Ann, Reston
Likes: ethic, local orginial restaurants
Dislikes: Not a big fan of chains
Reviewed: 1/7/09

cleanlinese: dirty floor in the cooking area. and the waiter/cook/cashier is one person, make perople worry whether the hands handling your food are clean or not. atmosphere: cold, you have to wear coat in winter if you want to stay "in" for the meal. service: extremely bad, when I pointed out the meat is not fresh,the waiter/cook/cashier immediately shouted at me very rudely with strange foreign accent! food quality: bad, the meat in my dish taste acidic.
value: price $6-9 per dish, the food served is no more than 3 oz loaded in a thin black 9 inch plastic dish.most important, so called Japanese soba noodle is actually chinese egg noodle which is available in the dirty chinese supermarket at the price of $3.4 per pound. I do not know how such dirty and ugly place can survive! their kichen and freezer really need to be invetigated, at least the quality of food should be garanteed!
kathy, dc
Age: 18-28
Likes: red lobster
Reviewed 12/08