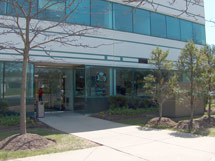 Joy Deli
560 Herndon Parkway
(inside the office building)
703-742-4680
Remarks: Mon-Fri, 6:30am-5pm
Google Map

Joy Deli is your typical office park deli offering breakfast, burgers, sandwiches, soups, fries and the like. They also offer a salad bar purchased by the pound at lunch time. Breakfast is about $2-$5 and lunch items are $4-$6. Catering and delivery available.
User Reviews of this Restaurant